Free shipping
There are no shipping fees if you buy one of our 2 plan packages "PDF file format" or "5 sets of blueprints + PDF". Shipping charges may apply if you buy additional sets of blueprints.
Express Plans Promise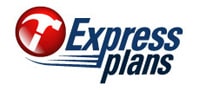 Our Express Plans promise is simple:
Complete detailed plans are ready in 10 business days, only for our contractor clients!
Once the modified plan order has been placed, Drummond House Plans will deliver your plan sets to you within 10 days**.
Additional design services available for home builders:
*Some conditions apply.