Free shipping
There are no shipping fees if you buy one of our 2 plan packages "PDF file format" or "5 sets of blueprints + PDF". Shipping charges may apply if you buy additional sets of blueprints.
How to order your plan online in 5 easy steps
Purchase your plan easily and securely by following the 5 steps below.
STEP 1: SELECT "ADD TO CART"
Find the model of house, cottage, multi-unit, garage or shed plan you are looking for by navigating through our diverse plan collections.
View the selected plan information on its technical sheet, including the detailed construction cost estimate, the layout of the floor (s) and the textual description, the distinctive elements, the visitors' questions and comments about this model, similar plans, photos and video of the plan (depending on availability) and more.
Plus, from our plan pages you can print and share the plan on Facebook, Pinterest, HOUZZ and also email the plan to a loved one or ask for additional information from our customer service via email.
Once the model is selected, click on the "ADD TO CART" button located in the right column on the page.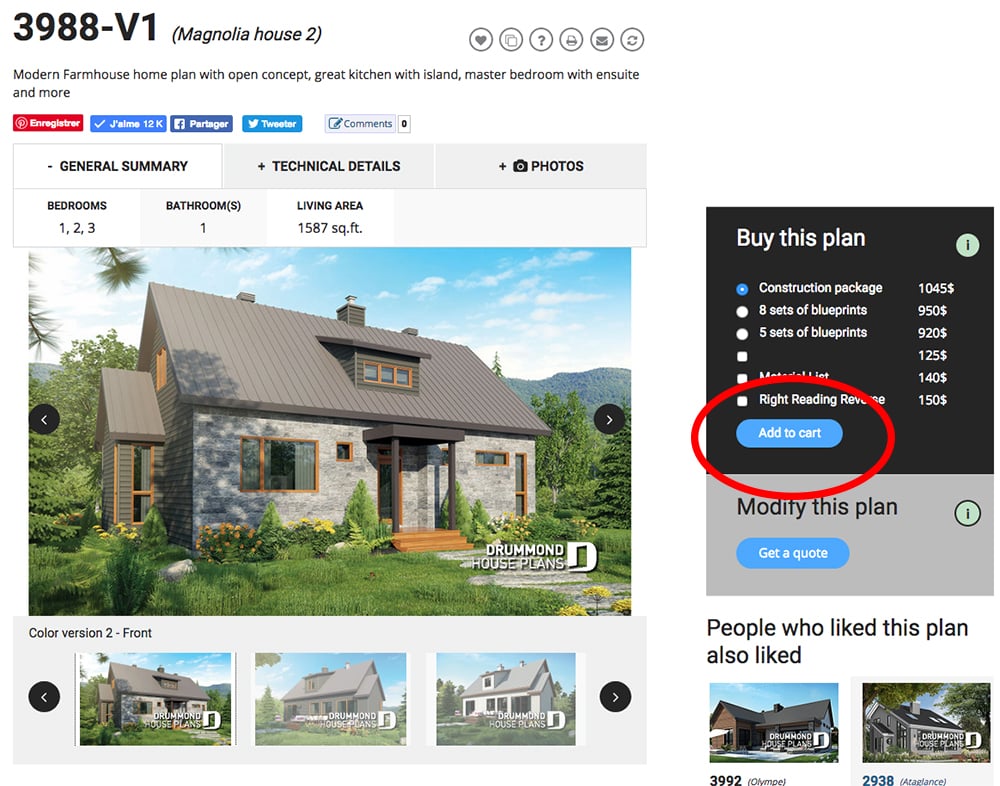 STEP 2: SELECTION OF "PLAN PACKAGE" AND RELATED OPTIONS
Select the desired plan package & options (number of plan copies, or electronic version), the type of foundation you want (if other than the default type), additional options (optional) such as materials list, plan language, reverse plan, garage plan and then click on the blue "Add to Cart" button, located at the bottom of the page, at the end of the options.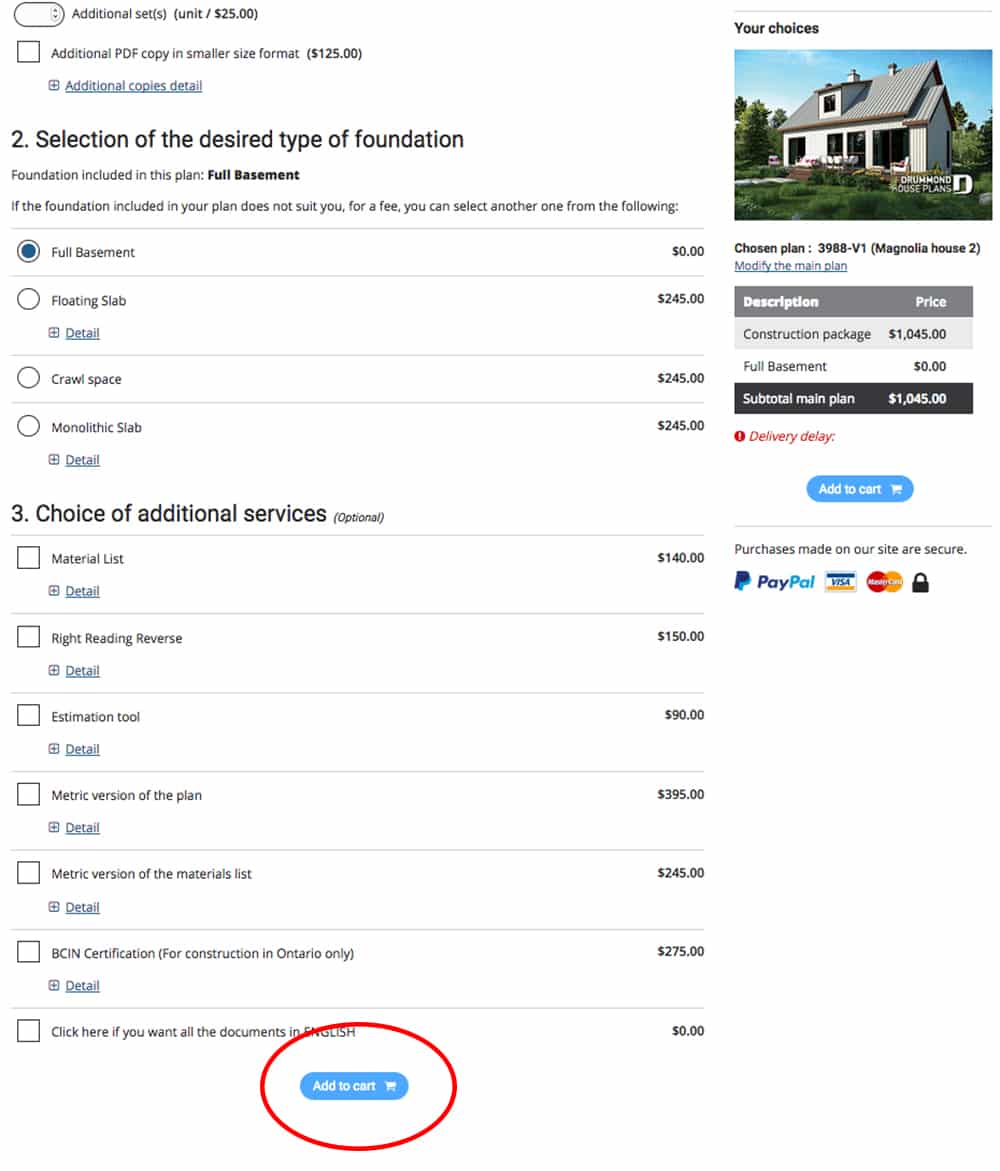 STEP 3: REVIEW YOUR SHOPPING CART
You can review items added to your cart. You can also change the quantities ordered and also delete part or the entire contents of your cart. If you have a promotional code, enter it in the space provided.
To finalize your order, click on the "Place your order" button.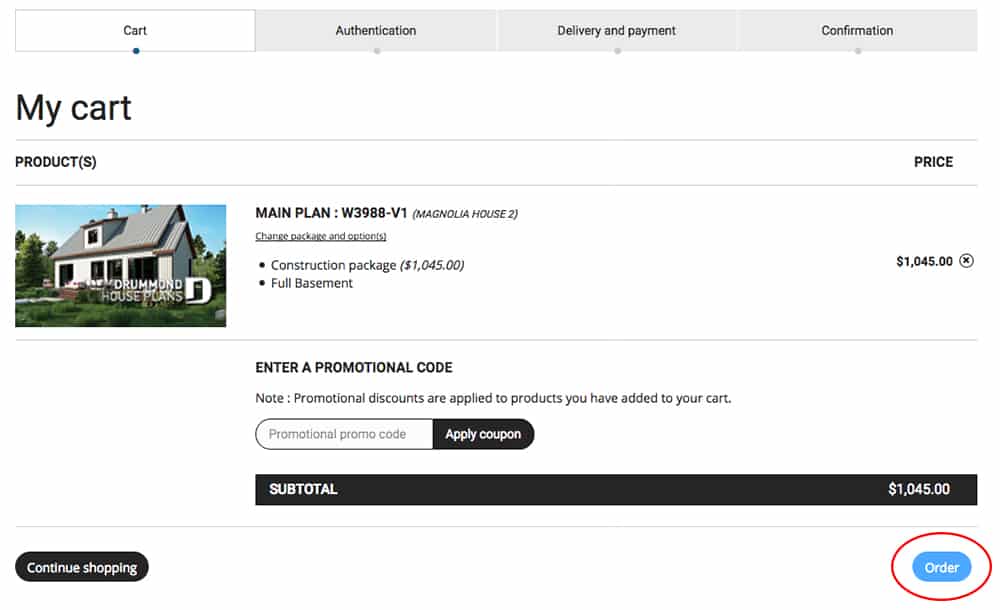 STEP 4: DELIVERY/INVOICING INFORMATION
On the next page, we will ask you to log in or register and then enter your shipping and billing addresses. If you have saved this information in your account, it will be filled in automatically.
STEP 5: PAYMENT AND CONFIRMATION
After verifying the summary of your order is correct, click on the "Confirm" button. Please note that you can still modify the contents of your order on this page.
Follow the instructions on the following pages to complete payment of your order.

THE DRUMMOND HOUSE PLANS SITE IS A SECURE SITE FOR MAKING CREDIT CARD TRANSACTIONS

.
After validating your order, a thank you page will appear with your confirmation number, confirming that your order has been received. You will also receive an email confirmation of your order. If you have not received your email confirmation within 24 hours, please first check your spam folder and if your confirmation is still not located please contact us.
If you have questions about your order or shipment status please contact us. To facilitate communication with our customer service department, please have your confirmation number ready.
At Drummond House Plans, your security is of utmost importance to us. When you place and order online, your data is encrypted using recognized security technology. This processing method is one of the safest known to date. Rest assured that your order will be placed safely and securely.
Only payments by Paypal and the following credit cards are accepted online:
Visa
Mastercard
AMEX
Discover
We do not accept payments by:
IMPORTANT INFORMATION
Plans purchased are neither refundable nor exchangeable. To find our terms of use, conditions of sale, and our policies regarding the protection of personal information, please see our Legal Notices section. For security reasons, the name and billing address must match the name and address associated with your credit card. We will cancel orders that do not meet this condition.