Free shipping
There are no shipping fees if you buy one of our 2 plan packages "PDF file format" or "5 sets of blueprints + PDF". Shipping charges may apply if you buy additional sets of blueprints.
7 Steps to take before buying your house plan
You have a construction plan in mind?
STEP 1. We suggest that you obtain the following information from the planning department at your city hall or municipality before selecting your plan.
Building categories permissible in your area;
Setback margins (front, back and sides as well as the height of the building);
Siding materials allowed on the façade (front) of your home as well as on the other elevations;
Allowable roof inclines,
Special note: Your building style and exterior materials may also be subject to building schemes defined by the community or developer.
STEP 2. Before purchasing a Drummond House Plan or getting your FREE estimate through our online modification service, it is first and foremost essential to have acquired or selected your property to be sure that your future home is perfectly designed for the chosen location.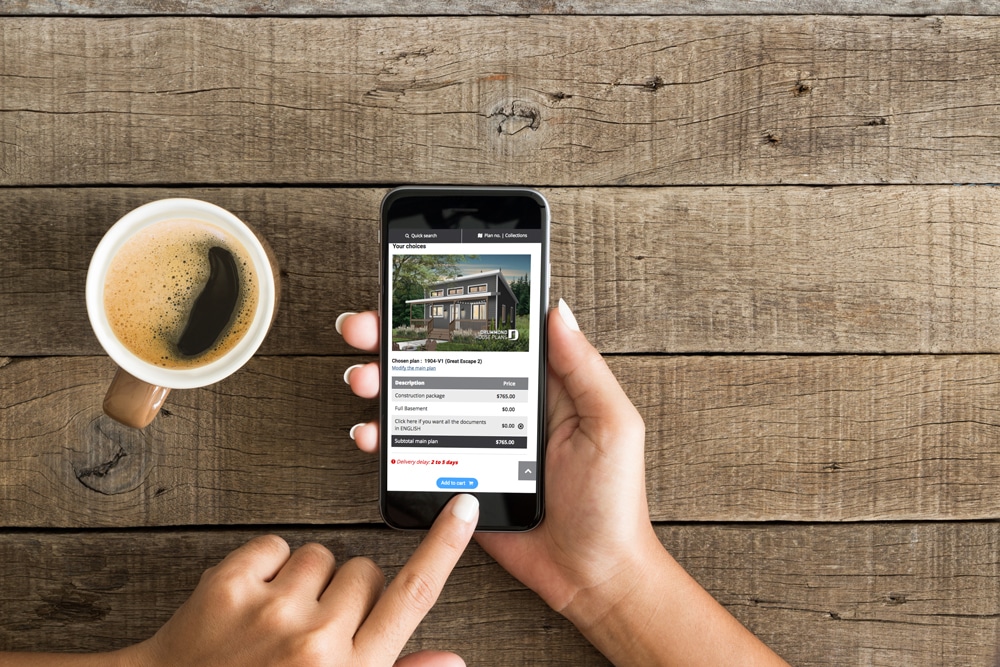 STEP 3. You must also analyze your needs, and identify your likes, your tastes and your requirements.
First of all, determine what your needs are in terms of dwelling type: detached house, multi-family, etc.
How many occupants will there be and what are their lifestyles?
Do you need any equipment or rooms that have particular functions? (home cinema, home office, playroom, extra bedroom for blended families, master bedroom on main level, especially for baby-boomers, recreation room, office or other needs)
What is your budget for building your house?
Visit our website to discover more than 1300 house plans that can inspire your home selection.
STEP 4. If you do not find the ideal plan from our collection of 1300-plus designs, we can design a plan exclusively for you or simply make a few modifications to an existing plan from our collection.
Whether you choose a plan from our collection that you wish to customize, or an exclusive plan that is completely personalized, our designers will make certain to correctly identify your preferences and your needs, all while considering, the following elements:
desired style
number of stories
number of occupants and their lifestyles
number and type of rooms
height of the ceiling
type of foundation
with or without a garage
etc.
STEP 5. Service offer and date of payment
Once we receive your modifications, we will be in a position to provide a free cost estimate and time frame for completion.
Furthermore, different additional services can be added such as a materials list, electrical plans and others.
STEP 6. Preliminary Design
Upon your approval of our design estimate, we will proceed with drawing up the preliminary plan which includes the floor plans and the elevations of the 4 sides of the house. Rough drawings may also be provided to be sure that we all have the same vision of mind.
We will then proceed with the production of our preliminary plan which will include the floor plans and the elevations of the 4 sides of the house.
STEP 7. Detailed Technical Plan
Once the preliminary design is accepted, we will produce the detailed and technical plan which you will use for construction. We will print the number of copies (usually 5 or 8) necessary for the construction or send you the PDF file via email. Your completed plan set will be sent to you via rapid courier if you choose to receive your plan on a print format.
You now have all the necessary information to meet with one or more contractors of your choice and receive estimates for your build. The conception team at Drummond House Plans will also be at your disposal to answer any questions or those of your contractor either before or during the construction of your home.
Other ways we can help you: