Free shipping
There are no shipping fees if you buy one of our 2 plan packages "PDF file format" or "5 sets of blueprints + PDF". Shipping charges may apply if you buy additional sets of blueprints.
9 Steps to get your online home renovation design
Following are the 9 steps to get your online home renovation design. Perfect solution if you live in an area not served by one of our 27 regional offices or you cannot or do not want to travel for an in-person meeting, we can offer our Renovation Plan Design Service online in the comfort or your own home.
3 ADVANTAGES OF ONLINE HOME RENOVATION DESIGN
Realize significant savings on the cost of your plan.


Online renovation plan design allows you to save the travel time for conceptualization and subsequent reviews.

Take advantage of the Drummond House Plans experience anywhere.


The Drummond House Plans design team has over 30 years of experience in the field of home renovation design. With this wealth of experience, Drummond House Plans can provide you with the tools to carry out your renovation projects.

Flexibility of your schedule


The whole process can be done via e-mail or phone calls, which will save time from your busy schedule.
STEP 1.

VERIFY BUDGET AND MUNICIPLE STANDARDS

As a first step, please verify your financing available from your financial institution. Then verify the following details with the planning department of your municipality:
Categories of eligible buildings in your area.
Authorized setbacks (front, back, sides, building height)
Cladding allowed on the facade and on other elevations.
STEP 2.

TAKE PHOTOS

Take quality pictures of every elevation of your house and also interior pictures that are relevant to your renovation project.
STEP 3.

COMPLETE OUR FREE ONLINE FORM
STEP 4.

SEND ALL THE DETAILS

Send us the renovation form, your photos and sketches and any other useful documentation to explain the project to our designer (original plan, sketches, magazine photos, site plan, etc.) using our online form or by email. The original building plan for your home would be extremely helpful to the design process.

In addition, it is always possible to add various additional services to your renovation plan such as the list of materials, the electrical plan, the construction estimate or site visits. Let us know which services are of interest to you.

Additional services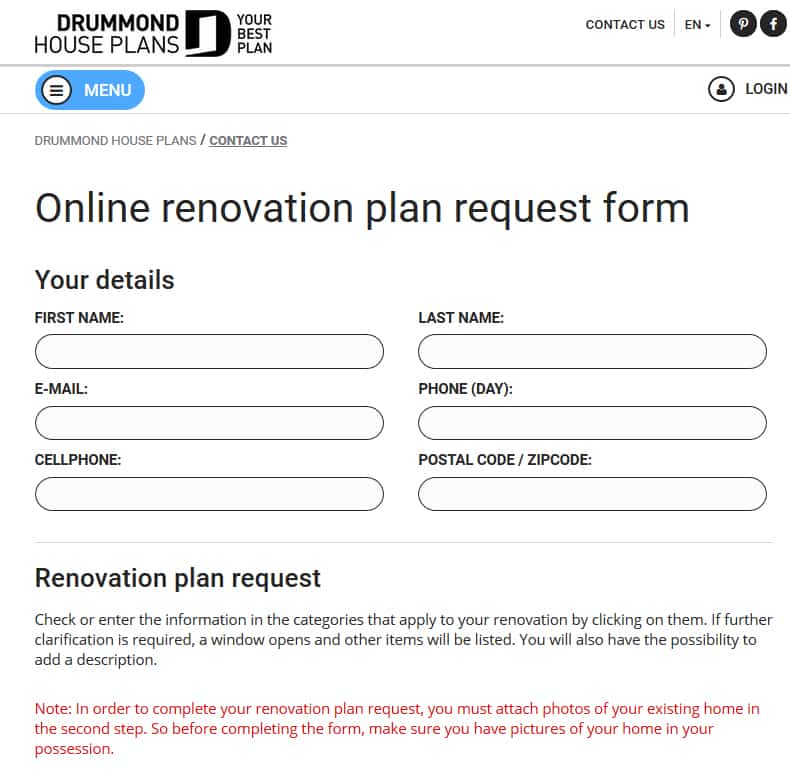 STEP 5.

RECEIVE YOUR FREE ESTIMATE IN 48 HOURS

Within 48 hours (2 business days) of receipt of your documents, or other arrangement as agreed by us, a FREE written estimate detailing our service offer and initial delivery times will be provided to you for approval. The delivery time of a renovation plan can vary from a few days to a few weeks depending on the time of year, and could be readjusted along the way, depending on the time required for your reflection and the number of revisions required following the receipt of your preliminary plans.
STEP 6.

IDENTIFICATION AND TAKING MEASUREMENTS

Following your approval of our service offer, the estimator will indicate on the photos you have supplied, the dimensions required for the creation of your plan. You will have to take detailed measurements of your house or cottage according to information we will provide you and return these details to us.
STEP 7.

COMPLETION AND DELIVERY OF OUR PRELIMINARY PLAN

Following the approval of our estimate (STEP 5) as well as acceptance of the delivery timelines of your final plan and our receipt of the required measurements, sketches can be made for you to ensure that we share the same vision that you have of your project.
We will then proceed with the production of the preliminary plan which may include, among other things, floor plans and elevations of the 4 sides of the house, or any other information relevant to your renovation project.
We will then follow up by emailing or handing over your preliminary plan to ensure that all details are in line with your expectations. If you wish, and we have provided for by agreement, different design options can be presented to you.
At this stage we will make corrections as needed until the entire plan is perfect for you. One to three discussions or meetings (via video conference or phone) are usually enough to allow you to approve the final project.
It is always possible to add various additional services to your plan such as the electrical plan.
At this stage it is also best to get quotes from one or more construction contractors.
STEP 8.

CORRECTION AND APPROVAL OF THE PRELIMINARY PLAN

The preliminary plan is 100% to your liking? Your Drummond House Plans professional then proceeds to the development of all of the detailed construction drawings for your renovation project.
STEP 9.

DELIVERY OF THE FINAL PLAN

Receive your final plan for the renovation of your house or cottage, in small or large format PDF and/or the number of printed copies you want, and as agreed to in your estimate.

You now have all the information you need to meet the renovation contractor of your choice and get quotes for your renovation work. The Drummond House Plans design team will also be available to answer your questions or those of your contractor before or during the work.