Free shipping
There are no shipping fees if you buy one of our 2 plan packages "PDF file format" or "5 sets of blueprints + PDF". Shipping charges may apply if you buy additional sets of blueprints.
House plan and renovation plan Ottawa (Ontario)
Our team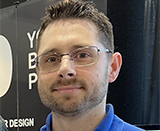 Dustin Poole
Owner / Senior Designer
Catherine Marleau
Head Designer
Biography
Dustin Poole, Owner / Senior Designer
I am an Algonquin College Graduate who obtained Certification in Architectural Technology 3 Year Program.
I worked for accredited Millwork, Architectural, and renovation companies.
I then subsequently formed my own company in 2010, which continues to work alongside homeowners, contractors, other designers, architects & developers.
I am a licensed architectural technologist, registered with the Ontario Ministry of Municipal Affairs & Housing, and have my Small Buildings BCIN (Building Code Identification Number)
There is one thing very important in life; and that is to, "Do what you love". Additionally, I really think this is an important key aspect of doing quality work, every day.
Catherine Marleau, Head Designer
After a 3 year program in the francophone college La Cité, a Certification was obtained in "Technologie de l'architecture" (Architectural Technology). Coming from a local francophone community, I can offer our client services both in English & french. Ever since my student life, I spent one-year performing administrative work in France, through a Community program named "Chemin Neuf" (New Path). for the last few years, I have been working for Dustin Design & Drafting, and it has been and continues to be a wonderful experience. This small business is very caring and quality-focused for every project.